Sales Department News: on December 15, 2021, Mr. Wu Lijie, the Board chairman of Anhui Huaertai Chemical Co., Ltd., and several senior managers of the company visited Yiming enterprise. Huaertai chemical company has established cooperative relationship with us since the establishment of Yiming enterprise. It has been a loyal customer of our company for nearly 20 years.
After the visit, Mr. Wu Lijie and his party had cordial and friendly discussions with Mr. Wang Xiuhui, general manager of our company, on higher strategic cooperation between the two sides in the future.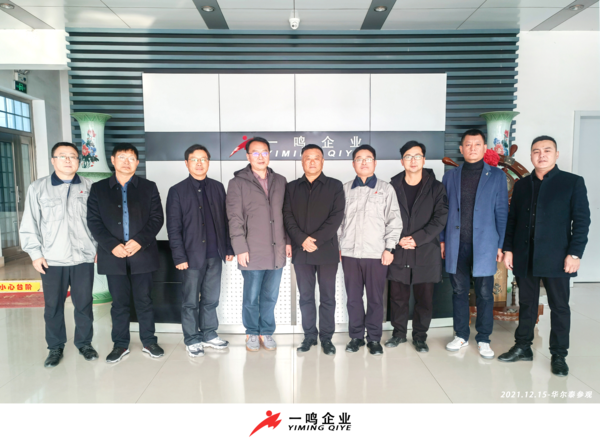 Anhui Huaertai Chemical Co., Ltd. is a modern and comprehensive chemical enterprise dominated by basic chemical products and supported by fine chemicals and new chemical material products. The company is located in the scenic Dongzhi Economic Development Zone of Anhui Province, close to the Yangtze River Delta economic circle, Tongjiu railway, G35 Jinan Guangzhou Expressway and g530 national highway.
At present, the company has four business divisions of thermal power, chemical fertilizer, chemical industry and refining and eleven functional departments, with an annual output of 120000 tons of ammonia alcohol, 250000 tons of concentrated nitric acid, 225000 tons of ammonium bicarbonate (including 30000 tons of industrial ammonium bicarbonate), 10000 tons of sodium nitrate / sodium nitrite, 250000 tons of 105% sulfuric acid, 200000 tons of 98% sulfuric acid, 100000 tons of refined sulfuric acid, 30000 tons of sulfur trioxide (65 nicotinic acid) 300000 tons of hydrogen peroxide, 30000 tons of melamine, 50000 tons of formaldehyde, 20000 tons of amino mold resin, 10000 tons of morpholine and other main product production lines. The products are mainly involved or applied in chemical raw materials, chemical fertilizers, new chemical materials, new energy and other industries and fields. The company, formerly known as the "small third tier" military enterprise in Shanghai, was transferred to the local government in 1985, incorporated in 2000, and listed on the main board of Shenzhen Stock Exchange on September 29, 2021, with securities code: 001217.
The company has a registered capital of 331.87 billion yuan and total assets of 2.284 billion yuan, covers an area of about 1155 mu, has more than 1000 employees, a production and operation scale of nearly 2 billion yuan and an annual profit and tax of 300 million yuan.
The company has successively passed ISO9001 quality system certification, ISO14001 environmental system certification and iso45001 occupational health and safety system certification. Now it is a national high-tech enterprise, a national advanced enterprise in employment, a national unit with outstanding contributions to the cultivation of skilled talents, a national intellectual property advantage enterprise, a national standard implementation demonstration enterprise of two modernizations integration management system and a national green factory, and has won a number of provincial Municipal honorary title.
Click www.ahhet.com for more about Huaertai